Welcome Fight Fans to
KOfightposters.com
The UK's Premier Boxing Fight Poster Website
A Pictorial Dedication To The Gladiators
Of The Squared Ring
Jack Brown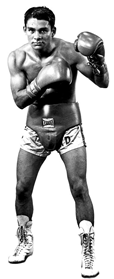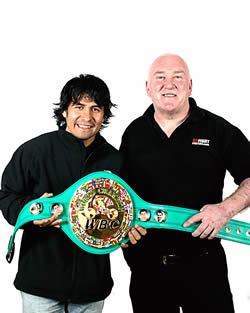 ABOUT US:
Welcome fight fans to KOfightposters.com. You've now entered one of the largest boxing fight poster sites on the planet! Below are a few brief paragraphs to fill you in on what this site is all about and what you can expect from it.
I've been going to Las Vegas now for the last 20+ years to experience that one & only truly incredible BIG FIGHT atmosphere you can only get when you attend a World Championship Title Fight!
The Battles and Super Fights I've had the good fortune to witness live have included along the way; Sugar Ray Leonard vs. Roberto Duran III, Julio Cesar Chavez vs. Meldrick Taylor 1, Nigel Benn vs. Iran Barkley, James Buster Douglas vs. Evander Holyfield, Thomas "Hitman" Hearns vs. Iran Barkley 2, Mike Tyson vs. Frank Bruno 2, Mike Tyson vs. Evander Holyfield 1 & 2, Marco Antonio Barrera vs. Eric Morales 3, Oscar De La Hoya vs. Floyd Mayweather Jr, Floyd Mayweather Jr vs. Ricky Hatton, Miguel Cotto vs. Antonio Margarito 1, Oscar De La Hoya vs. Manny Pacquiao, Manny Pacquiao vs. Ricky Hatton, Manny Pacquiao vs. Miguel Cotto, Manny Pacquiao vs. Sugar Shane Mosley, Manny Pacquiao vs. Juan Manuel Marquez & many many more wonderful momentous nights of championship boxing along that famous Las Vegas Strip from the MGM Grand, Mandalay Bay, Caesars Palace, Mirage, Thomas & Mack, Las Vegas Hilton, Hard Rock, Sands, Orleans, Hacienda & Bally's to name just a few!
Over these past 20+ years of Pilgrimage to the "Boxing Mecca" of Las Vegas we have amassed a collection of Original On-Site boxing posters, Vintage Closed Circuit posters & more Modern HBO PPv fight posters from the 80's till the present day & all thanks to our American friends which include Casino Management, promoters, trainers (past & present) fight camp attendees, journalists, HBO & Showtime crew members, official ringside photographers & a special thank you to the world's greatest sports artist Richard T Slone who have all contributed to making this website possible by their continued patronage & support so enabling us to be able to obtain these super rare gems of the past & up to date On-Site & HBO/Showtime (Pay Per view) posters thus allowing us to help promote an historical record of those gladiators of the ring and relive those distant and those not so distant memories of the titanic battles fought out along the Las Vegas Strip.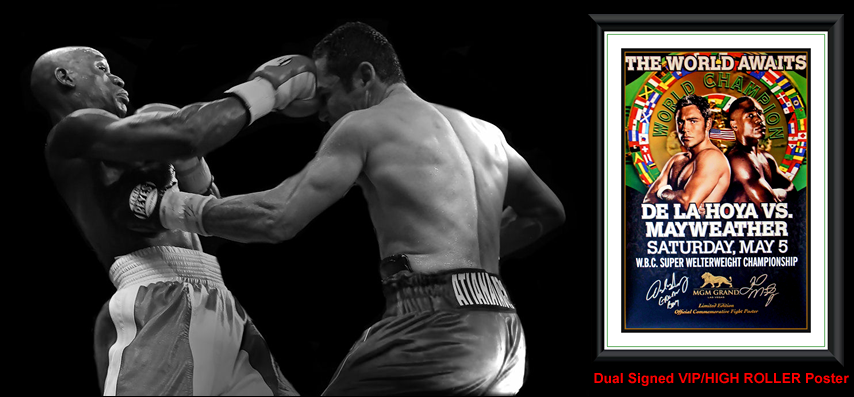 First & foremost I'm a Boxing/Fight poster nut!! I'm a collector! I'm not some faceless dealer whose modus operandi is to sell bulk autographed photos, gloves or re-print of genuine boxing posters! Most of these dealers are not interested in the sport of boxing or the quality of the item they are hoping to foist on the unsuspecting and trusting boxing fan. As I said I'm a collector 1st & foremost, and I'll only ever trade or sell any item of boxing memorabilia that is to a standard that I deemed fit for my own wall space.
I'm a collector that has let his hobby get totally out of control according to most members of my family, who view my collection as potential BBQ fuel. But I don't care, I am a disciple to our sport of boxing and still delude myself if I packed up the ciggies & booze with 3 months training I could become a contender and win a world title. I still shadow box around my bunker which is the only place my wife allows me to hang up my fight posters and slip into my own little world of fistiana.
My poster drug of choice is the iconic bespoke designs of the old school posters from the 50's to the 80's which all had their own individual character as well as usually having all the undercard boxers names clearly visible unlike the modern posters.
My favourites are the Caesars Palace and Las Vegas Hilton boxing posters from the 80's era which carried the prominent iconic CAESARS brand logo juxtaposed with the Las Vegas Hilton art work, these set the wall alight once mounted and framed. They are a spectacular head-turner for all those fortunate enough to be afforded the luxury & privilege of having these gems in all their glory on their home & office walls.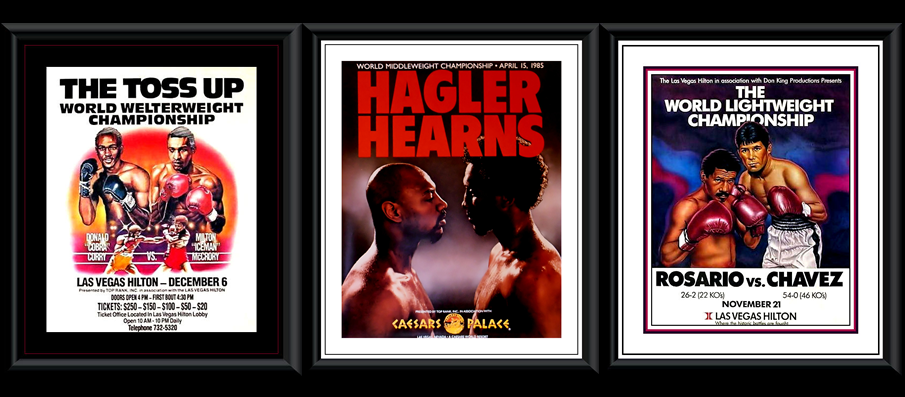 We do NOT SELL/DEAL or TRADE in RE-PRINTS of original posters.
All posters listed on KOfightposters are original & this site can be used for reference as we always put down the actual poster size or what it should actually be or close approximation which is one of the main ways to authenticate an original from a modern re-print albeit that the unscrupulous forger can with modern technology get the size near about correct but the one thing that they cannot do is replicate the fonts colours or clarity, that on close inspection will always expose the replica/re-print which infest modern day auction sites with sellers attempting to pass of these re-prints as originals when in fact most are just scans of the official boxing programmes front cover or more the case an image stolen from KOfightposters. So I caution you to the fact of that famous old Roman saying: CAVEAT EMPTOR / BUYER BEWARE!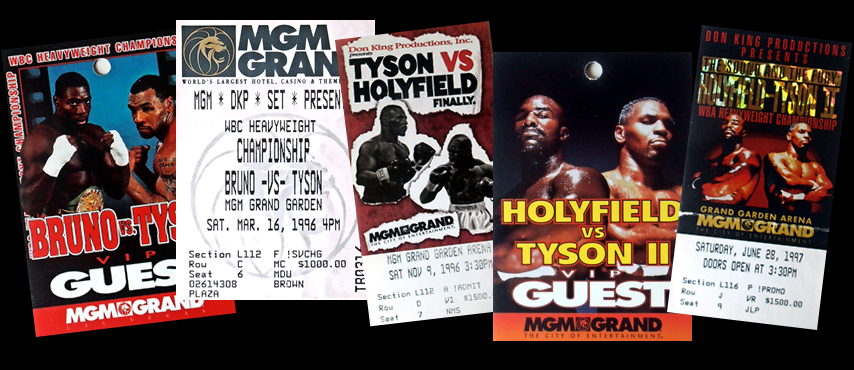 MGM GRAND GARDEN ARENA LAS VEGAS EVENT BOXING FIGHT TICKETS & VIP PASSES
Take your time & scroll down the pages of fistic history as there are 150 Boxing Posters per page & to get an even larger enhanced full size view & appreciation of any category item please click the "More Info" button which will take you onto a blow up page with more facts, stat's, description & brief history. We intend to cut out most of the verbals & let the image do the talking! We're not going to give out repeated history lessons about each fight which we expect anyone coming onto this site to probably already know anyway.

We just intend to stick to the basics & let the image of the Fight Posters, Boxing Gloves, Boxing Trunks, Autographed Boxing Photos IMAGE & PRESENTATION do all the talking as that is what KOfightposters is all about, always has been & always will be...image presentation to the best of our ability!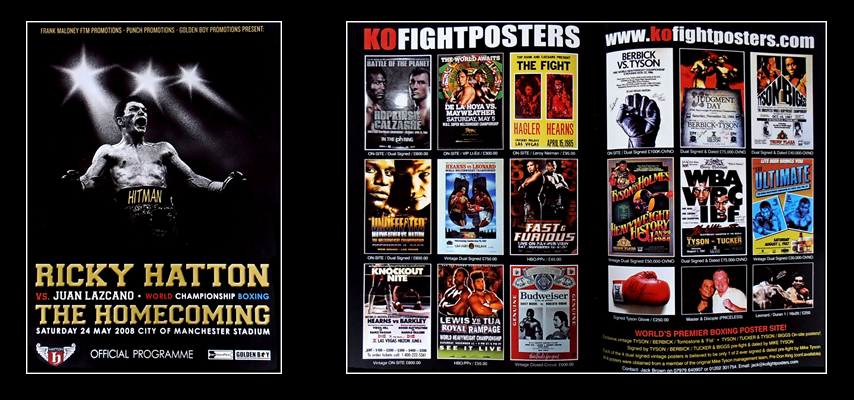 We've graced a few publications over the years to highlight our Exclusive Signed Mike Tyson Vintage Boxing Posters. Including the Floyd Mayweather vs. Ricky Hatton Las Vegas Mega Event boxing programme & Ricky Hatton vs. Juan Lazcano official fight programme + the obligatory must read home grown boxing publications such as the venerable BOXING NEWS & Boxing Monthly.
We had the great pleasure in furnishing the World Light Welterweight Champion Amir Khan's new boxing gym in his home town of Bolton & the finished effect is how every boxing gym should look! Wall's Awash with fistic history of titans past & present. We've supplied boxing gyms around the world from Moscow to Sydney to Johannesburg to Buenos Aires in Argentina! It's a global affair when it comes down to the great sport of Boxing. No matter what yer language is, the Fight Poster image does the talking & some!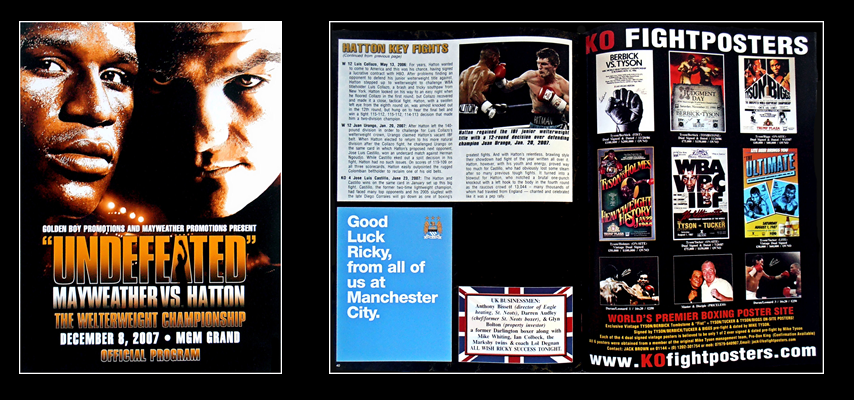 PLEASE review our Terms & Conditions, Autograph Policy, FAQ, Shipping etc. in the main menu.
IF you do not see something that you are looking with regard to any named boxer please just fill in your details in the box on the contact page & we'll see if we can source the boxing poster or boxing collectable you are looking for as we have over a 5000+ customer contact base + we are connected to all the top reputable boxing memorabilia dealers & collectors worldwide.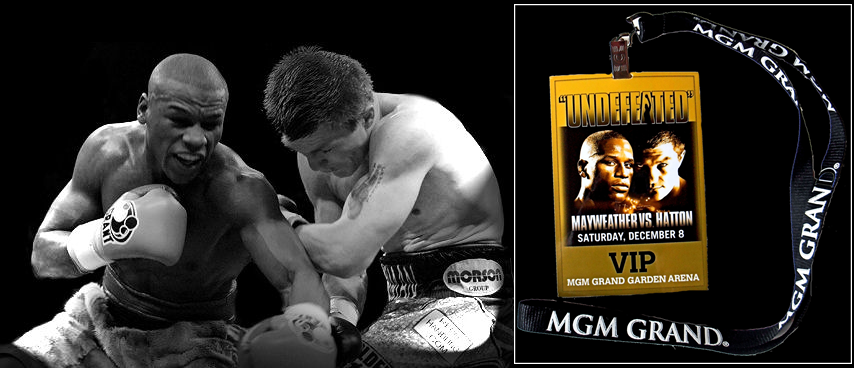 I could talk for hours about each and every titanic battle that I have been so privileged to witness live, especially the absolute mayhem & carnage inside the MGM Grand in the aftermath of the night Mike Tyson bit a chunk out of Evander Holyfield's ear thus getting himself disqualified after 3 rounds which set off a lunatic chain of events inside the arena that spilled out into the casino, viewed from my perch at the MGM Flying Monkey Bar! A Night & Event that is burnt into my soul!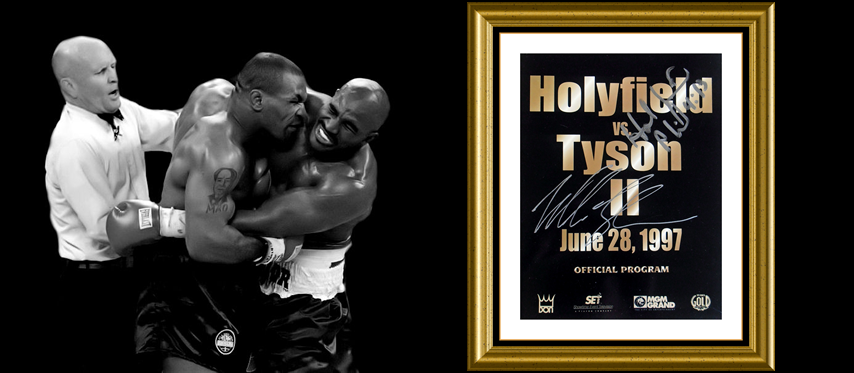 Anyway I'd better stop or I'll be here all night yapping, if you ever get to Las Vegas to experience the almighty dream come true VEGAS BIG FIGHT NIGHT, make sure when you walk through the huge MGM Grand Lobby heading down to Studio Walk & the MGM Grand Garden Arena, you'll pass the cool ZURI BAR on yer right hand side! Check it out! I'll be in there sat at the bar wearing my Black Polo shirt with the KOfightposters.com logo emblazoned on it, yer can't miss me, you'll probably hear me first! Tap me on the shoulder & introduce yerself! The 1st Ale's on me!
Enjoy the Site: Jack Brown.