KOfightposters Charity Policy
It goes without saying that I get inundated with requests from noble causes for donations of boxing memorabilia. If I responded in the positive to all requests I'd have nothing left to give. It's always gonna be one of life's great dilema's with regard to the fact 'who gets the supported & who gets declined'.
Over the years there have been various charities that I have patronised only to discover at a latter date that on occasion more than 80+% of the proceeds went straight into someone else's pocket as 'expenses' rather than all the auction proceeds going to the nominated charity. This of course leaves a very bad taste in the mouth and unfortunately lends too a feeling of paranoia with regard to future patronage. But I have found one local cause that would make even the most hard hearted nod in approval and that is Julia's House Children's Hospice in Dorset.
Thank you for your support & understanding.
Jack Brown
Julia's House celebrates a decade of caring for Dorset children
It is 10 years since the very first Dorset family received care in their own home from a Julia's House nurse. Today, The Dorset Children's Hospice, is still leading the field in community care. No other children's hospice in the UK offer's the level of home-based support which Julia's House families receive.


This care gives our families precious time. Time to spend with their other children, their partners – or simply just time to do those everyday tasks that the rest of us take for granted. Julia's House currently cares for around 100 Dorset children a year. With your help we hope to reach even more. But all this comes at a cost. Will you help us celebrate our 10th birthday by giving more families the gift of time.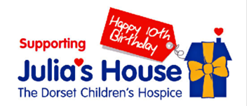 To find out more call 01202 644220 or visit our website juliashouse.org.