Frequently Asked Questions
What is an original poster?
An original poster, quite simply, is the first printing of a graphic promotion. Later reproductions, although decorative, have no real value.
Do you sell reproductions?
In a word, no. KOfightposters only deal in original boxing posters. As stated above, reproductions have no real intrinsic value and are therefore of no real interest. There are 2 exceptions to the rule as in officially licenced Muhammad Ali posters i.e. famous action photos & portrait images of the "Greatest" and TIGER PRESS limited edition run of ALI On-Site posters in 1988 which where offered for sale through the RING MAGAZINE. This information is available on the "More Info/Larger Image button on the scrollbar with regard to any such poster.
Can you tell me where I can find a reproduction?
Once again, the answer is no. Since we don't deal in reproductions, it's not something that we try and keep on top of. It's just not an issue of elitism; it's just not what we are about or the sort of business we want to get involved with. We just don't see the point, there's nothing better than looking at that original On-Site or HBO poster on your wall knowing that it came from the venue. It's original & genuine history, we are 1st & foremost collectors and not a mass production outlet.
Why should I be interested in purchasing an original poster?
Because it's the world's most popular art genre. Its documentation is exceptionally diverse, artistic, historic, graphically wide-ranging and nostalgic. And on top of everything else, posters are decorative. Some of them are stunning and imaginative, total head turning room controllers, whilst others are just straight to the point with 2 heads/date/venue etc. There is nothing like the classic Yellow "Madison Square Garden" On-Site posters they produced up till the early 90's or the Caesars Palace Las Vegas On-Site Originals from the 1980's, all bespoke designed & crafted, along with some superb Closed Circuit designs used to advertise an upcoming fight in shop windows that acted as ticket outlets. Their appeal is timeless. They strike a chord. They are rare, and above all they are original. They can be vintage or they can be contemporary, the original is an investment, and remember that today's latest advertising graphics will be the sort-after classics of tomorrow.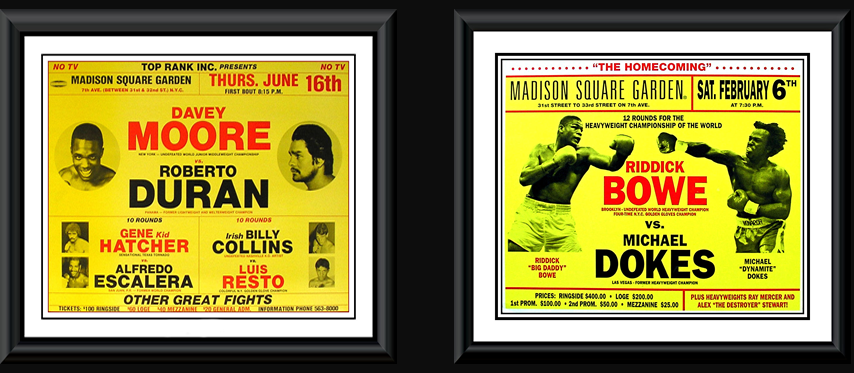 How many copies of a poster were printed?
In all honesty, we don't know. It's impossible to say how many copies were made to be sold at a venue or to be pasted to the walls of any given city back in the day. Whatever was left over was usually binned, posters were the cheapest & easiest form of mass advertising. One thing is for certain, It's the common consensus that after say 10 years you can expect a minimum 90% destruction rate. This being due to obvious handling damage, pinned to bedroom walls, Female of the species will kill a poster on site juxtaposed with her absolute & total refusal to surrender any of the home wall space. Information made available to us by modern day suppliers of official event merchandise from the 80's onwards put the figures of On-Site posters produced between 1 & 2 thousand per venue. In more recent times it's often the case that the event casino will not even bother to produce a poster & leave that to the modern day fight sponsor such as Budweiser or Tecata who emblazen the ring canvas with their company logo's & cable company's such as HBO & Showtime. Regardless of production runs & sales it's very unlikely that many posters survive in any sort of good condition unless stored away or framed. What isn't sold is usually dumped or forgotten about, it's on to the next event!
Then why are the remaining posters valuable?
Because the quantity of the original run of the poster doesn't relate to its value, with the odd 1 or 2 exceptions, It goes without saying that it's all to do with the event and who the fighters were on the bill. The quantity printed can really matter in some cases when it is a Limited Edition, the world famous sports artist Richard T Slone is now commissioned on a regular basis by Las Vegas casino's & the RING magazine to produce a main event poster, but these are limited too just 1500 prints. What really does matter is how many copies have survived since the day they were printed, albeit from "Back in the Day" or from last year. There is no "Day 2" for original posters.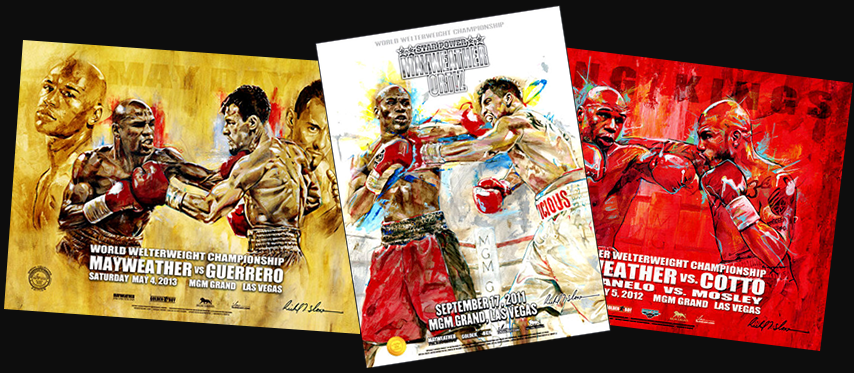 For example; Back in March 1990 when I attended the Julio Cesar Chavez vs. Meldrick Taylor CLASSIC fight at the Las Vegas Hilton, there was a special edition event poster that was produced by DON KING that was only on sale after the fight inside the ballroom that the fight took place in. I bought 2 posters for $25.00 a pop, it's all I could risk carrying without damaging the posters such was the crush & mayhem after the fight and now I could weep! Only about 500 tops were printed! They now change hands for $1000/$1500 in top condition.
What is an On-Site Poster?
A poster that is only sold at the event & will simply state: Combatants/Venue/Date! In recent times there has been plenty of confusion between On-Site, PPv & Fight Sponsors posters, these have actually been supplied all at the same time on occasion at some fights at the MGM Grand, Caesars Palace & Mirage in Las Vegas. But the real deal with regard to an On-Site poster compared to a Closed Circuit or more modern day PPV or fight sponsors poster is "Investment value" On-Site posters such as Sugar Ray Leonard vs. Roberto Duran 1 fought on June 20th 1980 in the Olympic Stadium Montreal Canada will set you back $5,000 if you are ever so lucky to find one in top condition. Attendees of this fight who bought the poster just don't want to part with them, same with regard to Muhammad Ali vs. George Forman in the famous "Rumble in the Jungle" These go from anyway between $5,000 & $15,000 whilst similar looking closed circuit varieties fetch around $400/$600.
In 1989 the Sugar Ray Leonard vs. Roberto Duran III fight had 4 official On-Site posters, one was of Leonard & Duran facing each other, and then you had the 2 VIP High Roller special invitee limited edition posters, one featured at the top of the poster "The Eyes of Roberto Duran" The other was by an artist named "Valentino" Then we have the official fight sponsors poster from Budweiser who commissioned the late great "Boxing Hall of Fame" & world renowned sports artist LeRoy Neiman" to produce this dramatic art poster which had facsimile signatures in the bottom pane & this Budweiser poster variant was only available at the Mirage Las Vegas. So we have 4 On-Site posters that were only available at the venue. WE have identified not 1, but 4 On-Site poster variants from the Thomas HEARNS vs. Sugar Ray LEONARD 1 fight at Caesars Palace in September 1981, Hearns/Leonard, Leonard/Hearns, then both variants with facsimile signatures. All genuine & standard 28in x 22in. It looks like SRL's ego insisted he had parity considering the fight was for the Undisputed Welterweight World Championship.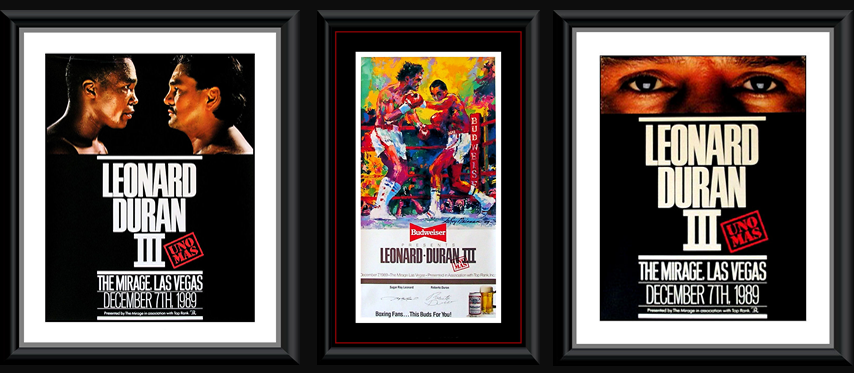 Last year at the MGM Grand Garden Arena Las Vegas, I was in attendance at the Weigh-In for the Manny Pacquiao vs. Juan Manuel Marquez III battle, the official fight sponsors TECATA handed out 1000's of complementary fight posters at the weigh-in. These are a lot smaller than the Official full-size On-Site poster sold in the MGM Grand lobby and carry the distinctive TECATA logo. From a collectors & appraisers perspective these are not the real deal as far as classifying them for insurance purposes as original A+ On-Site posters.
What is a "CLOSED CIRCUIT" POSTER?
In the late '50's & 60's, as boxing on television waned, the closed circuit broadcast of fights began. the live theatre shows began, the first of the closed-circuit broadcasts. The format of the new closed circuit posters was usually a window card sized (about 14" x 22"). This size is not set in stone. These were propped up in store windows who acted as local ticket agents advertising what theatre would get the live broadcast.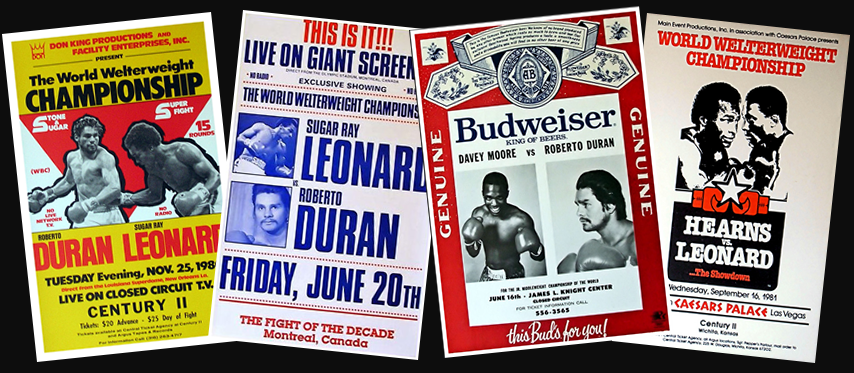 These vintage closed circuit (CC) posters are much more common than fight site posters but still fairly rare. In the '70's, the way we watched the big fights changed and so did the promotional items, including the poster. The entire fight business catered to the closed circuit venues and multiple sites blossomed. Satellite hook-ups began. Literally anyone with the site fee and a dish could sell tickets and show the fight. With promotion necessary to fill these sites, sports artists such as Leroy Neiman were commissioned to produce flashy images to catch the eye. Very attractive closed-circuit posters can be found from the 70's and into the 80's. The end of the '80's saw the end of closed circuit fights as we knew them. Now pay per view has ended the need for promotion of the "Packed out Cinema" to watch the fight and the boxing fight poster has undergone yet another transformation now it is under the auspices of the huge Cable Channel conglomerates such as Home Box Office & Showtime PPv juxtaposed with the major event fight night sponsors.
What is an " HBO boxing PPV - Top Rank Boxing PPV POSTER?
Now we are in the modern age of cable channel controlled & for all effect joint promoted boxing events, the boxing fight poster has all but been made redundant as a main stream advertising medium. There's no need any more to post flyers onto shop windows or telegraph poles to advertise a premier main event, we live in the global age of mass media, so where does the boxing poster fit into this new genre? What's it's purpose today! Simple, we all want a souvenir & that is what the function of the On-Site & freebie fight sponsors posters are today. Cable Giants like Home Box Office (HBO) & Showtime PPv produce a full size poster 40in x 27in & 36in x 26in for it's official PPv outlets, these posters will have the pacific time & eastern seaboard broadcast viewing times on them.
These HBO & Showtime boxing PPv posters along with fight promoters Top Rank pay per view posters are NOT available for public purchase, so in effect these are actually very rare posters & only obtainable if you have the right connections. There is very little difference today between the Official On-Site poster produced by the official casino merchandise franchisee & it's HBO counterpart as shown below, there's a convergence of interests. There are some rare exceptions to the rule in regard to On-Site posters have "Live on Pay-Per-View" printed on them, these are Don King Production posters and can vary fight to fight. Tyson/Bruno 2 On-site had "Live on PPv" printed on it & Tyson/Holyfield 1 (Finally) did'nt! A seperate poster was produced for both to advertise Bruno & Tyson fights on KINGVISION Closed Circuit.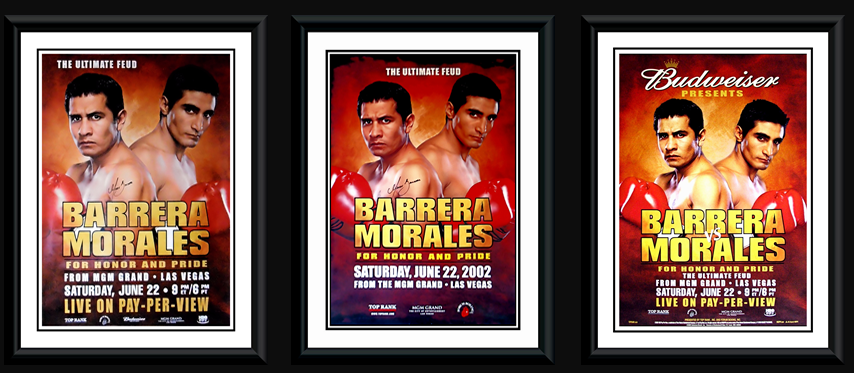 Vintage Posters - Who collects them ? What makes Vintage Posters valuable?
The collecting of Vintage Posters was started with the first distribution of the posters themselves. Years roll by & all of a sudden what was once easily available is now near on impossible to locate. Many people collect vintage boxing posters as an investment but more so for the one on one connection albeit the combatants or the event! Successful business men who wish to show a connection with a said champion or premier event that they attended whilst mere mortals were priced out as is the case for most mega-fights. Vintage posters of whatever genre will always be eagerly sought after due to it's obvious scarcity & uniqueness, it's no different from owning an old classic car, why not buy a Mercedes! Everyone can get a Mercedes! But not everyone can have a TYSON vs.BERBICK exclusive dual signed vintage On-Site poster hanging on the office wall. Human nature! I got it! You ain't!
However, it must be remembered that most of the vintage boxing posters were destroyed in actual use. They were mounted on gym walls and merely discarded or ripped away when the next new image became available. While the Vintage Fight Posters were originally produced in editions that numbered in the hundreds, and sometimes thousands, few survive in their original state. Also the original lithographer's stones did not normally survive past their first printing and were binned.
It is the combination of rarity of a poster, condition, event, and the image itself that will determine the final selling price of an individual poster. Some people purchase Vintage Posters with a specific subject matter , some are looking to work with a particular colour scheme, while others prefer a particular style & size. At all times, the better the condition of a poster the higher its price. The size of the piece does not always determine the value of a poster.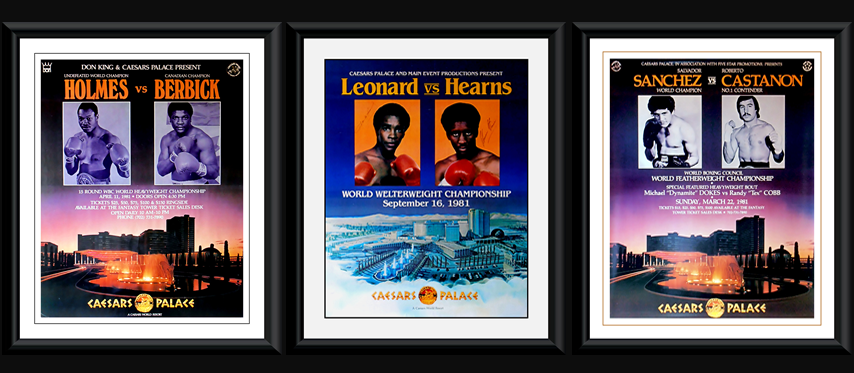 Vintage Posters - Where are they used?
Vintage boxing posters are used in many different ways. In the home many people use these striking images as the focal point of a room , often the living room, Hallway or family room but also the kitchen and bedroom as well. Vintage Posters are used prominently in television shows' decor - notice the living room in "Friends", Frasier, as well as in many movies. In an office setting the poster can be used in a lobby as well as in conference and showrooms. Some businesses use the Vintage Posters to promote their own products or just to create an atmosphere of well being, also as a pleasing distraction for clients and employees alike. In the office, it's a statement of connection!
Hotels and restaurants use our Vintage Boxing Fight Posters to enhance the ambiance of their establishments. Whether it be just one, or a full display of Vintage Boxing Fight Posters, they lend themselves to a room setting where customers are just relaxing or having a wild good time.


Do you provide valuations?
Yes. We also do appraisals for global insurance companies, underwriting & damage claim assessment.
Do you supply separate signing photo's for the items you sell?
No.
Do you offer a certificate of authenticity?
Yes, please read autograph policy.
Do you sell autographed football, rugby, golf, sports memorabilia?
NO, It's not our thing, if we were to ever sell any other sports items they'd be sports posters or sports art prints. WE are BOXING memorabilia! First & foremost!
Do you sell autographed UFC - MIXED MARTIAL ARTS memorabilia?
NO, we'd only deal in UFC Pay Per View posters & some vintage "PRIDE" posters which we have obtained & sold in the recent past. Our primary focus is on Boxing!
Do you sell MGM Grand Las Vegas event boxing fight tickets?
Yes & No, we only collect, deal & trade in used boxing fight tickets, we are not a Las Vegas boxing event ticket agency.
Do you publish the latest boxing news about big fight poster releases?
Yes, we will email everyone that has signed up for the newsletter.
HBO release their promotional PPv full-size posters usually about 3 weeks prior to any major boxing event. Official On-Site event posters are usually released 1 week before Fight Night.
All Subject to Availability!
Do you also offer a pre-order boxing merchandise, t-shirts, baseball caps ect?
Yes, we can obtain pre-fight all MGM Grand big fight night merchandise. You can just fill in the email contact box with your enquiry & we'll quote you the cost.


Enjoy the Site: Jack Brown.